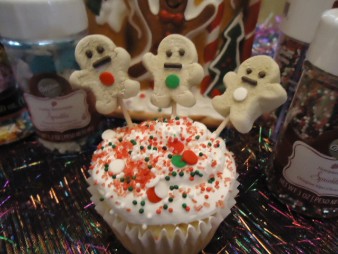 Gingerbread Cupcakes

Cupcakes

Gingerbread Marshmallows (got mine from walmart)
Chocolate Straight Sprinkles
Red, White, & Green Circle Sprinkles
Red and Green Round Ball Sprinkles
Red Sugar Crystals

White Frosting
Toothpicks
Bake yourself some cupcakes.
Take some white frosting and smear it on top of cupcake.
Put all your christmas colored sprinkles on top.
Take a gingerbread marshmallow and put a toothpick in it.
Add a button, eyes, and mouth.
I took the mouth sprinkle you see below,
and just poked it straight into the marshmallow for his eyes.
I used a dab of white frosting to glue its face stuff on.
Now make two more gingerbread marshmallows guys.
Stick them in the cupcake, and now your done.
You can take these to church for your kids in Sunday School class or Children's Church. Or make them for a Christmas Church Dinner for dessert. The kids will love them. (So will the adults!)