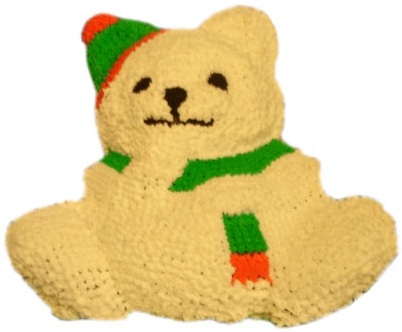 Christmas Bear Cake
Bear Cake Pan

Frosting- Green, Red, White & Black
Piping Tips and Piping Bags
Bake your bear cake. Then pipe white stars on the bear. Then pipe a red and green hat,using one of his ears for the hat. Add a scarf and black for eyes, nose and mouth.
I made this one year and took it for a church dinner. It was really easy to make. If you can bake a cake, and pipe frosting on then you should not have any problem with making this. Also, if you need a guide then just print this picture out and look at it while you are piping your scarf and hat on.

Super Cute! Super Fun! And Super Good Eating!